"Special historic spot, former Shizutani school, the oldest school in the world as a public school for common people"
Shizutani-school, became a driving force for modernization, has been designated as Japan Heritage
Shizutani-school was established by the lord of Okayama province, Ikeda Mitsumasa in the beginning of Edo period, 1670(Kambun 10th). It is the oldest existing public school for common people in the world.
When Ikeda Mitsumasa visited Shizutani at the first time, he said that here was wonderful peaceful nature and therefore this was very suitable place for reading or academic research. Then he took a decision of the school establishment for leadership training.
In accordance with the intention of the lord who aspired for permanence of the school, the retainer Tsuda Nagatada spent 30 years remodeling the original school, then he completed a solid and majestic school which had a look similar to the present Shizutani school.
In April 2015(Heisei 27th), Shizutani-school was designated officially at the first together with some special historic spots shown below, as an ensemble heritage of modern Japanese education.
*The special historic spot "former Kodokan"
*The historic spot "Ruin of Ashikaga school"
*The historic spot "Ruin of Kangien"
Since it is represented that the modern education as typified by Shizutani-school attaching much value to 'desire for learning' and 'civility' became an engine of modernization and has been relayed to the present education, Shizutani-school was given official recognition of Japan heritage.
After Shizutani school was opened, it has been a traditional style to take "Analects of Confucius" classes with sitting on the floor in the lecture hall.
Even now, in this valley you can hear echoed voice of student chanting Analects of Confucius.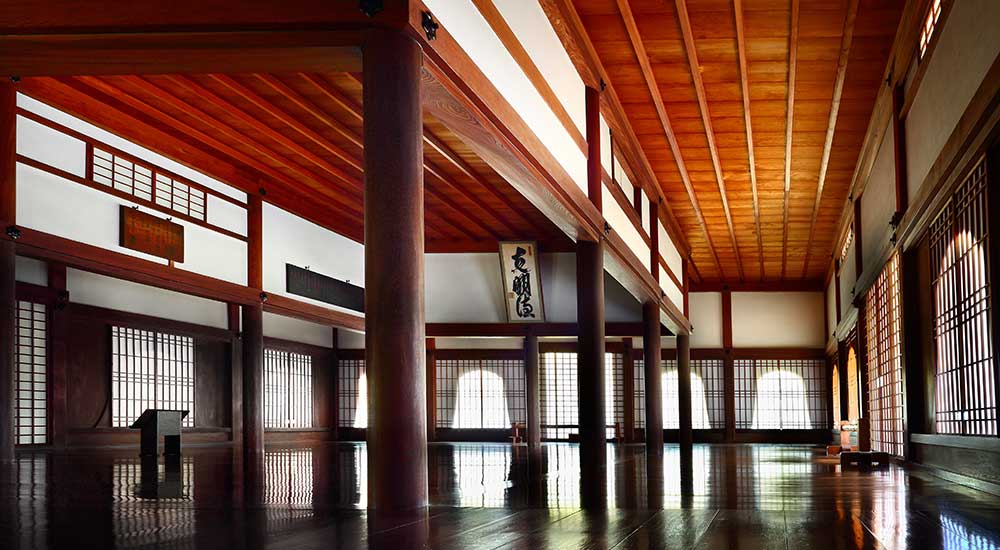 History
Year 1666 ( Kambun 6th )
Ikeda Mitsumasa, the local lord of Okayama visited Nobuhara, Kitani-mura(village), Wake-gohri(district)
Year 1668 ( Kambun 8th )
Ikeda Mitsumasa set up "Terakoya" at 123 locations in his province.
Year 1670 ( Kambun 10th )
Ikeda Mitsumasa founded a school here for common people and he ordered the management to Tsuda Nagatada, a executive of Okayama province.
Then, on that time, he renamed from Kitani-mura to Shizutani-mura.
Year 1673 ( Empo 1st )
Ikeda Mitsumasa visited here to see the completion of "Lecture Hall"( former building ). Next year, "Sacred Hall"( former building ) was completed.
Year 1675 ( Empo 3rd )
All the terakoya of Okayama province was abolished, then those were unified to Shizutani school.
Year 1684 ( Teikyo 1st )
The newer "Sacred Hall" was completed.
Year 1686 ( Teikyo 3rd )
A Confucian festival called Sekisai was held first time.
Horetsushi(ex-name, presently called as Shizutani shrine) was completed.
Year 1701 ( Genroku 14th ) 
Lecture Hall, Shosai( The building for the local lord's exclusive use ), Shugeisai( Building, where anyone could receive lectures such as fundamental scriptures of Confucianism ) and Inshitsu( Tea break room ) were completed in sequence.
Then a stone fence was built around the school, most facilities became similar to the present overview of Shizutani school.